Jethro Tull -21 februarie, Sala Palatului
Lita Ford -Hard Rock Cafe, 14 martie
Swans -club Control, 23 martie
Bill Lovano -Sala Radio 25 martie
Marco Mendoza-Hard Rock Caf, 29 martiee
Sighisoara Blues Festival ed. XI -31 martie-1 aprilie: Denise Smith Band
Gregory Porter -Sala Palatului 24 aprilie
Marc Ribot -Control, 8 mai
Deep Purple -Romexpo 13 mai
Jazz Festival Sibiu -free entrance 18-20 mai
Al di Meola 20 mai Bucuresti
Dream Theater 19 mai Cluj / 20 mai Bucuresti Areneel Romane
Depeche Mode -Cluj iunie
Kings of Leon -17 iunie, Bucuresti, Arena Nationala
Metalhead Meeting 23-24 iunie, Arenele Romane -Sepultura, Behemoth, Roos the Boss, Cradle of Filth etc
Placebo -28 iunie, Arenele Romane
Evanescence-29 iunie Arenele Romane
Metalhead Meeting 4 iulie, Arenele Romane -Gojira
Bucharest Jazz Festival -3-9 iulie -free entrance-Brandford Marsalis, Stanley Jordan, etc.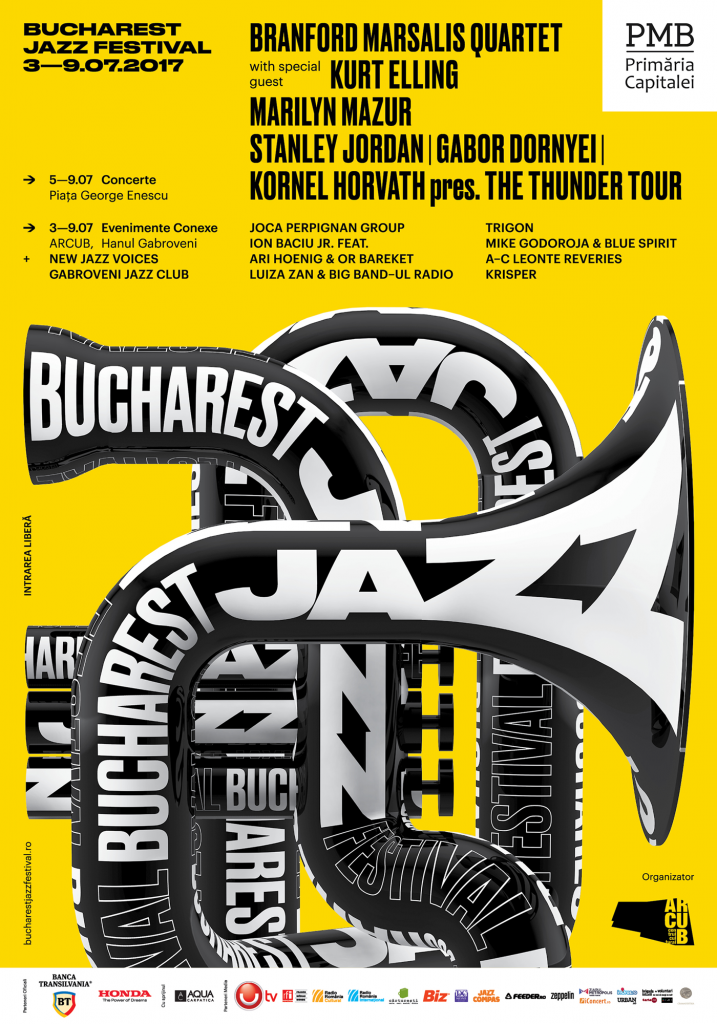 Garina Jazz Festiva
l editia XXI 6-9 iulie -Bill Frisell trio, John Scofield
Electric Castle : Franz Ferdinand, Unkle, etc. 13-16 iulie -Bontida, Cluj
Timeshift -Bucuresti Romexpo / scena Control 22 iulie Mogwai, Death in Vegas, Young Fathers, Leftfield
Artmania 28-29 iulie Sibiu-Devin Townshend, Lacuna Coil, Riverside, Tarja
Rockstadt Extreme Fest
10-13 august, Risnov-Annihilator, Opeth, Caracass, Napalm Death, Kreator, etc
Summer Well -
Domeniul Știrbey-12-13 august 2017;
Interpol
,
Birdy, Metronomy, The Kills
,
Nothing But Thieves
.
Smida jazz Fest -GoGoPenguin 25-27 august
Rock the City -27 august, Bucuresti-The Offspring, Bullet for my Valentine, The Darkness
Dichis'n'blues-Tulcea
-editia 3-a-1-2 septembrie -Laurence Jones, BB and the Blueshacks, Angela Brown and Blues cargo, etc
Posada Rock 1-3 sept. Udo Dirkschneider, Evergrey
Focsani Blues Festival -8-10 septembrie, free entrance
Brasov Jazz & Blues 9-11 septembrie
The Jesus and Mary Chain-
Centrul Cultural Mihai Eminescu,
B
ucuresti
14 septembrie 2017 in deschidere DokuStation / ANULAT
Fink -Control Club, 14 octombrie
Sting-Cluj, Sala Polivalenta, 14 oct.
Candy Dulfer & band-Sala Palatului, 17 octombrie 2017 / ANULAT !

Anathema -24 octombrie, Arenele Romane
The Dire Straits ExperienceTimisoara 10 decembrie
Sala Palatului, București
11 decembrie 2017
Helloween -Pumpkin Tour 15 decembrie 2017-Romexpo
Holograma lui Dio -Arenele Romne, 17 decembrie 2017
OUTSIDE:
Tom Petty -Hyde Park, London -July 9th /w special guests: Stevie Nicks
Narcao Blues, Sardinia -19-21 iulie: Ottis Taylor, Charlie Musselwaite, Eric Sardinas
Brian Wilson -Lyon, 17 iulie, Les Nuits de la Fourviere
Alice Cooper-Fezen fest, Hungary, 3 august
Alice Cooper-Lyon, 1 decembrie
9 September Hamburg, Germany Stadtpark
12 September Munich, Germany Olympic Stadium
16 September Spielberg, Austria Spielberg at Red Bull Ring
20 September Zurich, Switzerland Letzigrund Stadium
23 September Lucca, Italy Lucca Summer Festival-City Walls
27 September Barcelona, Spain Olympic Stadium
30 September *Amsterdam, Holland *Amsterdam ArenA
3 October *Copenhagen, Denmark *Parken Stadium
9 October *Dusseldorf, Germany *Esprit arena
12 October *Stockholm, Sweden *Friends Arena
15 October *Arnhem, Holland *GelreDome
19 October *Paris, France *U Arena
22 October *Paris, France *U Arena