A one-off, totally lost in the woods of movieland, and seeing it after 20 years after its release, with fear and anguish :), and wow, I've been mesmerised. An anti-western, or Revisionist western, that today is a genre of its own, and brought us the most nihilistic movies I fave but nobody gave a damn, at least box office wise, and mostly the critics spat on it. This one was called a shit sandwich and worse. Now really, have you seen Straight to Hell with The Clash and 'em acolytes, so that was fun and this is hell ? C'mon folks..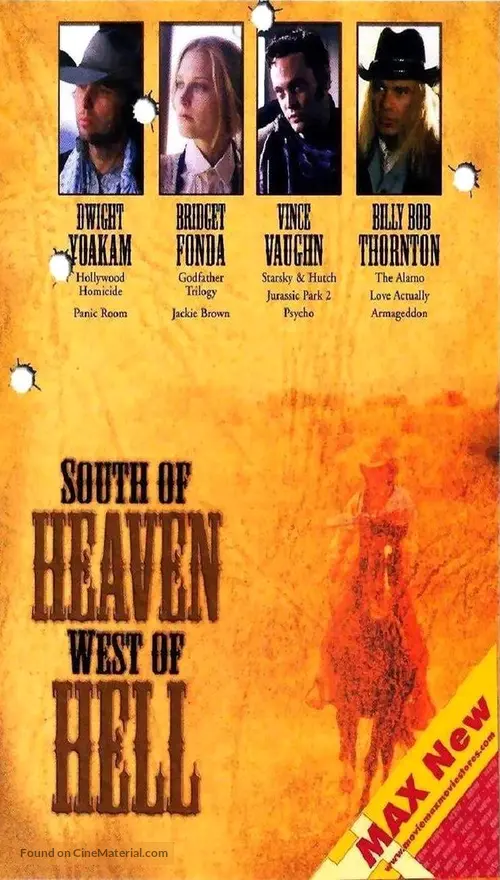 .Welcome to
South of Heaven
, that equals Hell. As if the pun was not enough the day-bread title goes on-
West of Hell !
Texas border, that is !
It's the only film country legend singer (and part time actor) Dwight Yoakam wrote (co-wrote), produced and directed. And he was the lead, which might be the main problem, cos he ain't neither Steve McQueen, neither Kevin Costner. So, yeh, but what, this is his madness, ok ? He put all his money into his passion project, selling his Malibu house and later on declaring total bankrupcy...
The film happens on the day before Christmas 1907 in a village next to the Mexican border, where people can watch the first western, The Great Train Robbery, (from 1903, by Edwin Porter-maybe also a nod to Butch Cassidy and the Sundance Kid's opening), and then goes into 1908 even closer to the border, in the line of it quite so (no walls by then :). It's more like an alegory of death and living dead, in the vein of Pale Rider, High Planes Drifter anti-hero, who might or might not be alive/ dead.
Same in the genre- Dead Man, from which cult scene by the bonfire i think inspired this one ! These days a flick like The Assassination of Jesse James by the Coward Robet Ford (
see here my review
with more about revisionist westerns) and most recently
The Sisters Brothers
can get away with anything, but the roots on this are more like Peckinpah's Pat Garrett & Billy the Kid, Bring me the Head of Alfredo Garcia, more to The Missouri Breaks and Get South, Posse or
The Great Norfield Minesotta Raid
. Remember it all goes down to McCabe and Mrs. Miller after all, and to the anarchy of now so-called punk western, aka the spaghetti western from late 60's (did I say nihilism, I wrote the word in the above paragraph).
*****
Now lookie here at the cast: Bo Hopkins, Luke Askew,
Peter Fonda
, his daughter Bridget, Billy Bob, (yes,Thornton, with a long blonde hair wig), Vince Vaughan as his baddiest !, Mr. Pee Wee aka Paul Rubens as Arvid, Bud Cort !,Joe Ely ! Matt Clark ! Scott Wilson ! Michael Jeter (a riot!!) and vetran Noble Willingham in a part that is totally Jack Nance's David Lynch. Actually Lynch's name has been more than mentioned in regards of this movie !
***and if that wasn't enough,
one far out cameo
-Warren
Zevon,
as mr. Babcock !!!, he's there for ten minutes and doesn't say a word, except on his exit, two words -2- nicht drei, zwei !!!, <Good Night !> Warren was already ill at the time, you can se it on his face, and I guess he's here because of Billy Bob (yes, Thornton), keep in mind this is one single shot for
Warren
in a feature film !!!
BTW- Dwight looks like Tom Petty...
*
wiki page
here
*
article in The Guardian about the financing of the film, and such kind of off-ones,
here
****
The soundtrack- the piano on repeat reminds me of something,
Zevon
-like, or more like The Band
can't be rated, I've seen it from 1 to 10 on imdb, i think its a real curio an acquired taste, I'd give it an 8 tho, or rather a 7 that is a *** 1/2 !
***
Bravo Dwight Yoakam for trying, as I said above the man went totally bankrupt out of this and I guess he still suffers from it, maybe in between the south and west of somewhere, but hey, he did IT :D